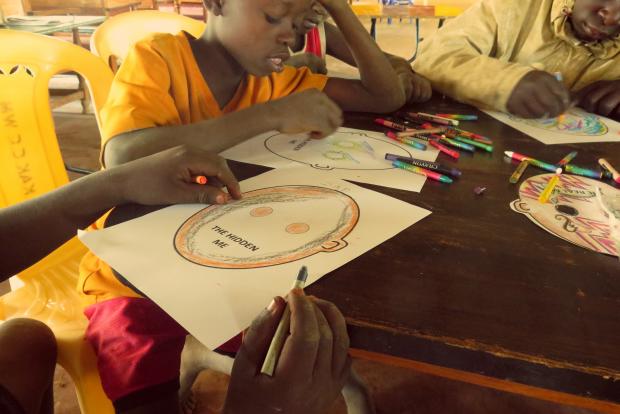 One issue very close to our hearts at The Kenyan Children's Project is that of vulnerable children living on the streets. The Kenyan Children's Project was first founded in order to help local street children and recently this work is expanding at an amazing rate! Our staff workers are part of various projects to help assist children currently living on the streets and also to identify and assist vulnerable children who may be at risk of running to the streets.
In Kakamega Town alone, where our office is based, 300-500 children live on the streets at any one time. Society calls them 'rats' and they are frequently arrested and beaten by police, simply for living on the streets. These children quickly become part of a gang lifestyle, stealing and begging to pay 'rent' to the older street boys, who dominate life on the streets. Abuse is a normal part of their lives, and these children are usually found high on glue to dull the hunger pangs and reality of their circumstances. Thankfully the days have passed when children are shot just for living on the streets, but those days are still a close memory in the minds of the KCP and local people.
The word gang can fill people's minds with fear and unease. On the face of it, that is a fairly valid response! But having a team who is committed to working to reach out to these child gangs, means that the word fills us with hope. These children have experienced acceptance, unity, loyalty, protection and a sense of family. They may not have seen the most healthy or positive applications of these things, but these are children who can recognise these important values in life. This means that when they are welcomed back into the accepting arms of family once more, their little hearts know how to respond.
One of our projects is that we now run weekly classes in the slum, enabling our team to identify vulnerable families and children at risk before they ever run. This is the same slum, where you may remember we recently dug a well and renovated a homework club, which is at the centre of this work.
We also run a weekly therapy class for children currently living on the streets, primarily focussed on helping boys up to the age of 13. These classes take the children through behavioural therapy programmes to teach them social and emotional skills and to help them process their life situation and choices. Their lives can be so traumatic that they need help in order to use basic skills such as identifying danger, feeling fear and processing pain. The group of children that we work with are fun, mischievous, sometimes misguided and can throw a tantrum to top any toddler, so the classes can be quite eventful, alongside being highly impactful! These classes have been running since March 2015, and the fruit is extraordinary, with many children now asking our team for help to go home to their families.
We then work to search for their families, assess the safety of a move for the child, and provide assistance to help reconnect the broken relationships once again. Our team then provide ongoing social care once children go home to help them re-integrate as well as possible back into normal life.
As a result of these classes, our team have already seen 5 children leave the streets since December! One of them is this little boy… who although he looks small, used to be the leader of his gang of street children. Both of his parents had sadly died and so he had no one to go home to. Hope is one of the worst things to lose, but also… hope can also be found! Our social team worked with him for 10 months and spent time researching his extended family and eventually managed to locate his aunt. She welcomed him home in December with open arms and a huge smile, and he is now settled at home and beginning school!